Carrymate Non Slip Grips

Carrymate Non Slip Grips
Carrymate Non Slip Grips Plywood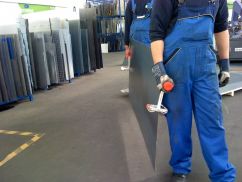 * Images are for Illustration Purposes only.
POA - Please call for details
All sizes of Carrymate® Non-Slip Grips come with replaceable rubber pads and a protective sleeve along the cushioned handle; therefore preventing damage to the carried load. Each Carrymate® Non-Slip grip can lift up to 100 Kilos, and they are sold in pairs. They are suitable for transporting difficult to handle, sheet metal, plywood, building elements, tempered, laminated and insulated glass, windows, fencing, PVC, security/fire doors, solar modules/collectors, packaging, façade panels, natural stone, paving slabs, kerb stones, etc.
The Carrymate® are available in three span widths;
Carrymate® 5          (capacity 0-80 mm)                        
Carrymate® Senior   (capacity 40-120 mm)                           
Carrymate® XL        (capacity 80-160 mm)