Dyneema Rope & Sling

Dyneema Rope & Sling
Dyneema Rope & Slings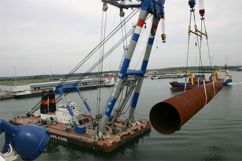 * Images are for Illustration Purposes only.
POA - Please call for details

Higher precision, efficiency, and safety
Steel wire lifting slings - typically used for general purpose and engineered lifts as well as offshore oil, gas and wind farm installation - are reliable and strong. But they are also heavy, hard to handle, rough on loads, and always potentially dangerous.
Get in front of faster handling by using slings with Dyneema®
Slings with Dyneema® offer the same strength at one-seventh the weight of steel ones. They are also easy to maintain, inspect, and repair, which increases uptime and cuts costs.
Soft, flexible and so safer for crew, loads, and structures
Torque-free and similar elongation to steel wire rope
Float in water and resistant to UV, chemicals, and salt