Access and Protection

Access and Protection
Temporary Horizontal Lifeline Systems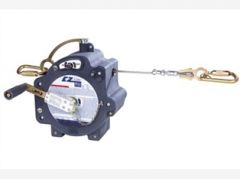 * Images are for Illustration Purposes only.
Weekly Hire Price: £75.00
EZ-Line ™ is the most user friendly horizontal lifeline system on the market today! Easy to install, remove and store, EZ-Line's innovative retractable design allows the user to quickly and efficiently set-up any length of system in only seconds and dismantle it just as quick.
Retractable lifeline is simply pulled out for installation and retracted with built - in handle to tension the line. Customise your system length in any increment up to 18m for complete job site flexibility. Entire system stores in an easy to carry case - no more coils of unmanageable cable! Installation, removal and storage is the fastest in the industry, taking only seconds, providing ultimate worker productivity. Built - in tension and impact indicators take the guess –work out of system set- up and service. Extremely lightweight system is 33% lighter than conventional 18m systems for increased ease of use. Attach to any 22kN rated anchorage connector or stanchion for added versatility. Provides hands – free horizontal mobility and continuous protection for 2 users per system. Meets CE and OSHA requirements