Access and Protection

Access and Protection
Counterbalance Davit System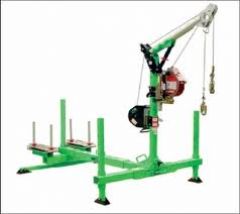 * Images are for Illustration Purposes only.
Weekly Hire Price: £420.00
With a safe working load of 120kg-205kg, the counterbalance davit system is flexible, portable and modular for use in a wide range of applications and environments
The new counterweight davit system is composed of a central base unit to accommodate a variety of anchorage options, plus adjustment legs and extension assemblies
The UCL Advanced Series Counterweight System is composed of a central base unit to accomodate a variety of anchoring options, positioning and adjustment legs, and extension assemblies. Anchoring options include a weight rack for counter balanced applications, a rail clamp assembly for anchorage to railway track rails, and a wheel pad assembly to allow counter balance of the unit with an attendant vehicle.